Overview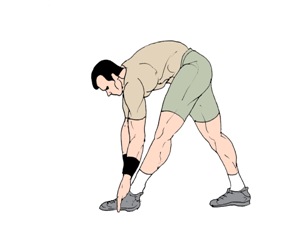 Achilles tendinitis is an inflammation (swelling) of the tendon, which usually occurs as a result of overuse injury. Anyone can have Achilles tendonitis. Athletics involving frequent jumping is the classic cause, but certainly not the only one. Any activity requiring a constant pushing off the foot, such as running or dancing, may result in swelling of the tendon.
Causes
Achilles tendinitis is usually caused by straining the Achilles tendon through intense activity or a sudden increase in exercise. Individuals who play basketball often develop Achilles tendinitis as a result of pivoting, jumping, and running. These repetitive movements put pressure on the tendon and can gradually wear it down over time. Increasing the intensity of your workouts may also lead to the development of Achilles tendinitis. This is commonly seen in long distance runners who do quite a bit of uphill running. Similarly, if you start exercising more frequently you may also develop the condition due to overuse of the tendon. Not stretching properly before exercise can also make the tendon more prone to injury. Achilles tendinitis is also common in individuals whose feet have a flattened arch, as this places more stress on the tendon. The condition can also be triggered by arthritis, as joint pain can cause one to compensate by putting more pressure on the Achilles tendon.
Symptoms
Pain anywhere along the tendon, but most often on or close to the heel. Swelling of the skin over the tendon, associated with warmth, redness and tenderness. Pain on rising up on the toes and pain with pushing off on the toes. If you are unable to stand on your toes you may have ruptured the tendon. This requires urgent medical attention. A painful heel for the first few minutes of walking after waking up in the morning. Stiffness of the ankle, which often improves with mild activity.
Diagnosis
Laboratory studies usually are not necessary in evaluating and diagnosing an Achilles tendon rupture or injury, although evaluation may help to rule out some of the other possibilities in the differential diagnosis. Imaging studies. Plain radiography: Radiographs are more useful for ruling out other injuries than for ruling in Achilles tendon ruptures. Ultrasonography: Ultrasonography of the leg and thigh can help to evaluate the possibility of deep venous thrombosis and also can be used to rule out a Baker cyst; in experienced hands, ultrasonography can identify a ruptured Achilles tendon or the signs of tendinosis. Magnetic resonance imaging (
MRI
):
MRI
can facilitate definitive diagnosis of a disrupted tendon and can be used to distinguish between paratenonitis, tendinosis, and bursitis.
Nonsurgical Treatment
Your podiatrist may recommend one or more of these treatments to manage your pain. A
bandage
specifically designed to restrict motion of the tendon. Over the counter, non-steroidal anti-inflammatory medication (ibuprofen). Custom orthotic shoe inserts to relieve stress on the tendon. Rest. Switching to a low impact exercise such as swimming, that does not stress the tendon. Stretching, massage, ultrasound and appropriate exercises to strengthen the muscles that support the achilles tendon. In extreme cases, surgery is necessary to remove the damaged tissue and repair any tears.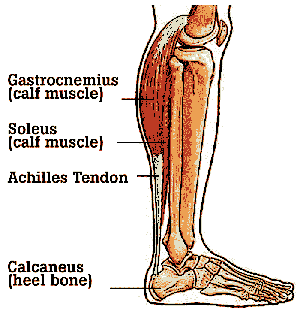 Surgical Treatment
Around 1 in 4 people who have persisting pain due to Achilles tendinopathy has surgery to treat the condition. Most people have a good result from surgery and their pain is relieved. Surgery involves either of the following, removing nodules or adhesions (parts of the fibres of the tendon that have stuck together) that have developed within the damaged tendon. Making a lengthways cut in the tendon to help to stimulate and encourage tendon healing. Complications from surgery are not common but, if they do occur, can include problems with wound healing.
Prevention
If you're just getting started with your training, be sure to stretch after running, and start slowly, increasing your mileage by no more than 10% per week. Strengthen your calf muscles with exercises such as
toe
raises. Work low-impact cross-training activities, such as cycling and swimming, into your training.